Traditional And Water Fed Pole Window Cleaning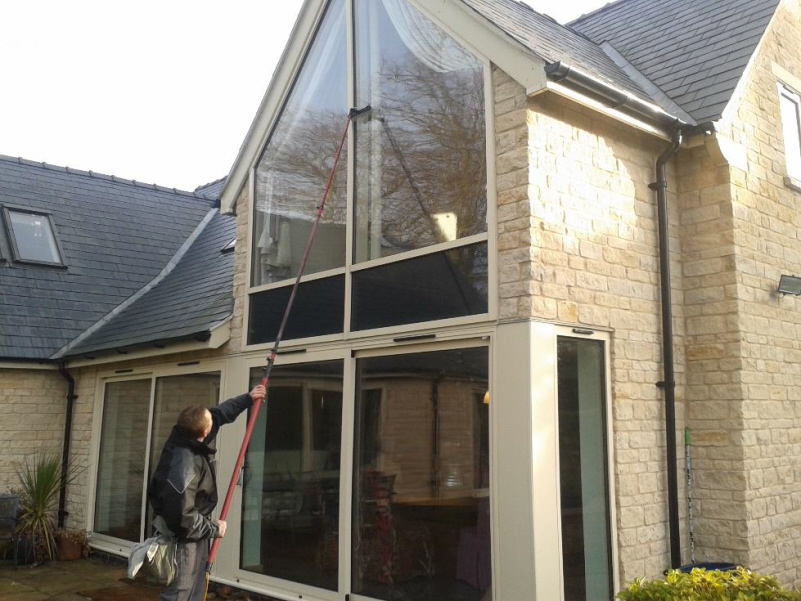 HIGH STANDARD FINISH
When we use the traditional cleaning method, which involves the use of a squeegee and scrim, we ensure each window is cleaned and inspected to our excellent high standard finish.
Pure water window cleaning – How it Works
Water is purified using a process called Reverse Osmosis which takes out all the dirt & minerals that could leave marks on the glass. Then special poles & brushes are used to access windows from ground level, so no need for ladders. The brush cleans all the dirt from the glass and surrounding frames & sills then the whole window is rinsed with the pure water which will dry clean with NO marks, streaks or drips.
Benefits
– It complies with Health & Safety regulations
– The general frames are cleaned at same time at NO extra charge
– Windows can stay cleaner longer
– Due to the Poles used, hard to reach windows can be cleaned including Velux & Glass Roofs
– Heights up to 60 Ft. can be reached
– No need to use ladders which can cause damage to paint work, tiles, lawns etc.
Regular and convenient window cleaning service
We offer the following window cleaning schedules – 2 weekly, 4-weekly, 6 weekly and 8 weekly. Window cleaning services in Lincolnshire.
Some of our regular areas include: Thorpe Tilney, Walcot, South Kyme, North Kyme, Scopwick, Kirkby Green, Timberland, Digby & Rowston… although we work in all areas within a 15 mile radius of Nocton, Lincolnshire.